Exe Corp is a growing IT firm based in Ho Chi Minh City Vietnam and this project is a brand new workplace for them after 6 years of foundation, which, according to the young vice director, needs to accommodate an expansion to 25 staffs, reflect a very vibrant, youthful, energetic culture of the company and at the same time, meets the idea of keeping things simplistic and refined.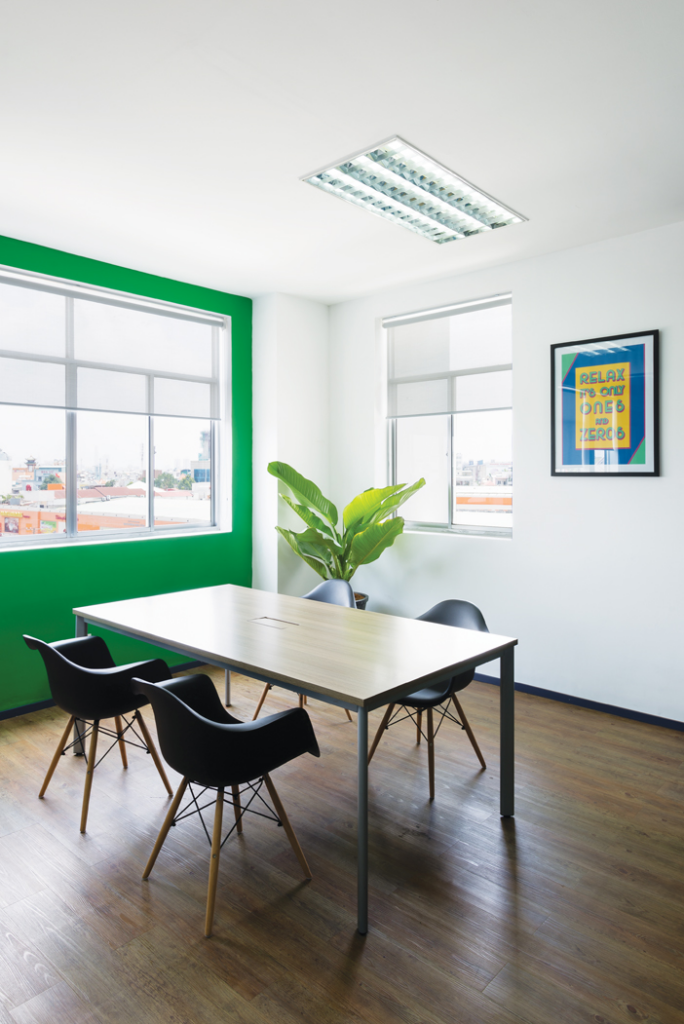 This new location for Exe's office is located on level 4 of a rather old building in Tan Binh District-a rectangular empty space with no partition built-up yet and a lot of small windows lining up along the boundary brick wall, which is a common design trend in old Vietnamese office building.
With a not-very-spacious area of 970 sqft available and the requirement on having dedicated spaces for formal meeting, pantry, the architect decided to build up only one room within the open working space for both internal and external meeting. As for the pantry area, the disadvantage of having 2 existing columns in the middle of the small office was turned into a feature open bar for Exe, which can be used as a dining table as well as a collaboration space for the staff. All office storage and pantry stuffs as microwave, mini fridge were pushed into the U-shaped space behind the feature pantry.
As all working desks were re-used, their wood laminated top and grey powder-coated leg were immediately considered as primary elements for the architect to select a color scheme for the office. The design focuses on developing each area based on different themes complementing each other within a simple white setting. The open workspace uses the desks? wood color for its vinyl floor, which appears to be the major part of the design. Standing out from this wood background are the concrete/industrial-themed pantry and the entirely blue meeting room. Some walls in the open area were cladded with recycled wood and green-painted to emphasize some special functions such as a back-drop opposite the main entry and a group desk for the graphic designers in the office.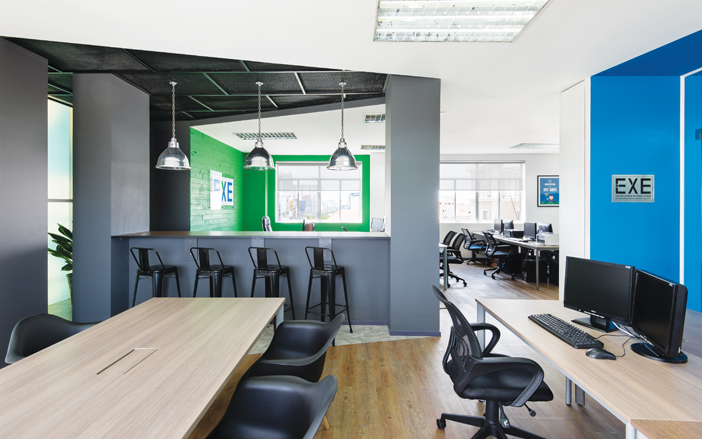 Design: Phan Khac Tung
Photography: Quang Tran
For more information, please visit:
http://officesnapshots.com/2015/10/27/exe-corp-ho-chi-minh-city-offices/
http://www.noithatmagazine.vn/nha/thiet-ke/van-phong-exe-nho-gon-va-hieu-qua.html