Owning a growing software company, the young programmer Nguyen Huu Quang is moving up on his career ladder with his most recent achievement: the Gold Medal at the 2016 ICT Vietnam awards.
Carrying on the passion for programming, the young ambitious guy has been working and learning restlessly to gain his way to become Managing director of an IT software outsourcing company, taking care of more than 200 projects of all sizes for both domestic and international clients such as Canada, Australia, Singapore, Vietnam? Let's hear his story of growth and success by the interview below with 24h News:
Path to the prestigious award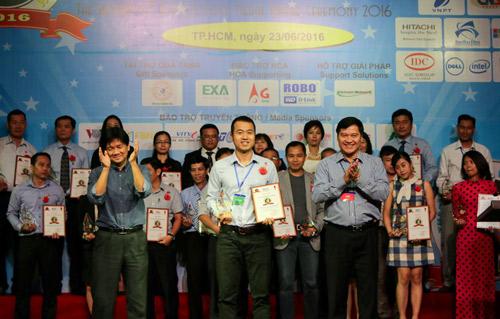 EXE has just received Gold Medal at the 2016 ICT Vietnam award by Hochiminh city Computer Association (HCA), what do you think about this outstanding achievement?
ICT Vietnam is one of the most prestigious and earliest IT awards in Vietnam. The winners are usually long-standing and influential IT groups. Last June, our solution "School Activities Management" (SAM) has achieved the Gold Medal for Category Best Solution for foreign clients by meeting the following criteria:
SAM has been deployed for clients and been recognized and appreciated for its effectiveness
SAM solves realistic problems of the education industry: support management activities in schools and education centers, reduce redundant operations, provide security and prevent data loss, technicalize all management tasks in the school.
Can you share a bit about your company EXE Corp?
EXE was founded since 2009 when i was a student. Due to my passions for technology, I've decided to choose software development as our major business. After 7 year of operation, EXE now has about 20 employees working full time for full process of software development: business analyst, developer, UI/UX design, QA/QC. Our revenue has doubled since last year with very fast track of growth.
Non-stop learning for success!
In your opinion, what are the necessary skills for new graduates to gain a good job?
I think young Vietnamese students need to improve language skills, communication and negotiation skills, especially when contacting foreign partners. Most of new graduates are very shy, lack of confidence when applying for a position, they turn out not able to catch up with the workflow due to inconsequential working methods.
How would you evaluate the technology trends in the next few years? And how do you prepare to cope up with the change?
The trend in the near future for technology in my opinion will be S.M.A.C with 4 factors: Social, Mobility, Analytics and Cloud. EXE has been focusing on mobile solutions with the direction "Mobile first".
And what are your business goals?
Our goals in the next 5 years is to continue improving our technical competence in 4 industries: aviation, education, e-commerce & retail and food & beverage, also applying latest cutting edge technology. We want to ensure that our clients can completely trust in us in delivering the best and most suitable solution matching each specific industry.
Quang's success is a good sign for all of IT addicts as we do have a large promising market in Vietnam and in the world. With all of the continuous positive signs, we can definitely believe that these young people will create a 2nd Silicon Valley in Vietnam!
(*) For more information, please visit: http://www.24h.com.vn/tin-tuc-giao-duc/gap-go-chang-giam-doc-tre-dat-huy-chuong-vang-ict-vietnam-2016-c678a805486.html