The risk of global recession is increasing with each passing month. Last mid-September, the World Bank warned that the world may be on the verge of a global recession in 2023. A recession will impact all areas of the economy, and while no company or industry is 100 percent safe from it, some are less likely to be affected than others. See how the global recession would affect the tech industry by reading the article below.
These days, businesses are facing greater challenges, and a number of reputable economic news sources are revising their forecasts and predicting a global recession.
Financial institutions and markets are exercising greater caution than before. Many people are concerned about the rising cost of living. Here's how experts predict the impact of global recession in the tech industry and IT expenditure.
Central Banks Are Changing Their Interest Rates
From last September up to now, many central banks, one after another, announced its biggest interest rate rise since 2008. For instance, last month, the ECB (the central bank of 19 European countries) increased their interest rates by a record of 75 basis points. Its inflation is now around 8.1 percent.
The Bank of England also raises interest rates significantly and predicts the inflation in this country will hit 13 percent by the start of 2023.
In Southeast Asia, the inflation is also on the increase but still remains low from historical experience. Vietnam has the lowest inflation rate at 3.94 percent, which can be more beneficial for the economy and finances.
Are We in A Recession Yet?
In June, the World Bank declared that Russia's invasion of Ukraine could imperil the global economic recovery from the COVID-19 pandemic, causing a recession.
For countries that import energy, energy price shocks will push up inflation by raising production costs, reducing real wages, increasing financial constraint and restricting macroeconomic policy.
In the past, a recession happened when there was a negative growth for more than two consecutive quarters. However, other times, other ways, and economic cycles are difficult to predict. Currently, we have witnessed a number of issues that raised warnings about the economic crisis ahead, including the war in Ukraine, higher energy prices, supply chain disruptions, massive cost-cutting and layoffs in numerous companies.
Is It Worse Than the Great Depression 2008?
According to Morgan Stanley, despite the forecasts, the current global recession is going to be shorter and less damaging than previous ones.
They list a number of causes, such as high real estate costs, competitive labor markets that led to hiring freezes instead of layoffs, relative strength prior to the recession, and a more steady, recurring revenue stream thanks to the subscription model.
What Is Happening to The Tech Industry?
Experts in different fields make predictions about recession differently because each group focuses on a specific area.
Even with the macroeconomic context, it is clear that not all companies and industries will be affected in the same way. Moreover, the tech industry is so vast, so not every technology sector is the same.
People use the term "Big Tech" to refer to the leading and largest technology companies ranging from social media companies to phone and computer makers and automobile manufacturers. Due to the fact that every company is now a tech company to some degree, the term "technology sector" is no longer as relevant as it used to be.
1. Global IT spending forecast to raise 5.1 percent from 2022
According to a Gartner forecast in October 2022, the global IT spending will climb by 5.1 percent to $4.6 trillion in 2023. Although the growth pace is slow, the demand for IT is still strong as companies need to invest in digital solutions to meet their customer's needs. It is projected that, while hardware (devices) spending will see a small reduction, software and IT services spending will respectively increase by 11.3 percent and 7.9 percent in 2023.
According to Mr. Lovelock – Research Vice President at Gartner. "Inflation is a concern for everyone." Up until the end of 2023, global inflation rates are expected to drop as central banks around the world prioritize fighting inflation.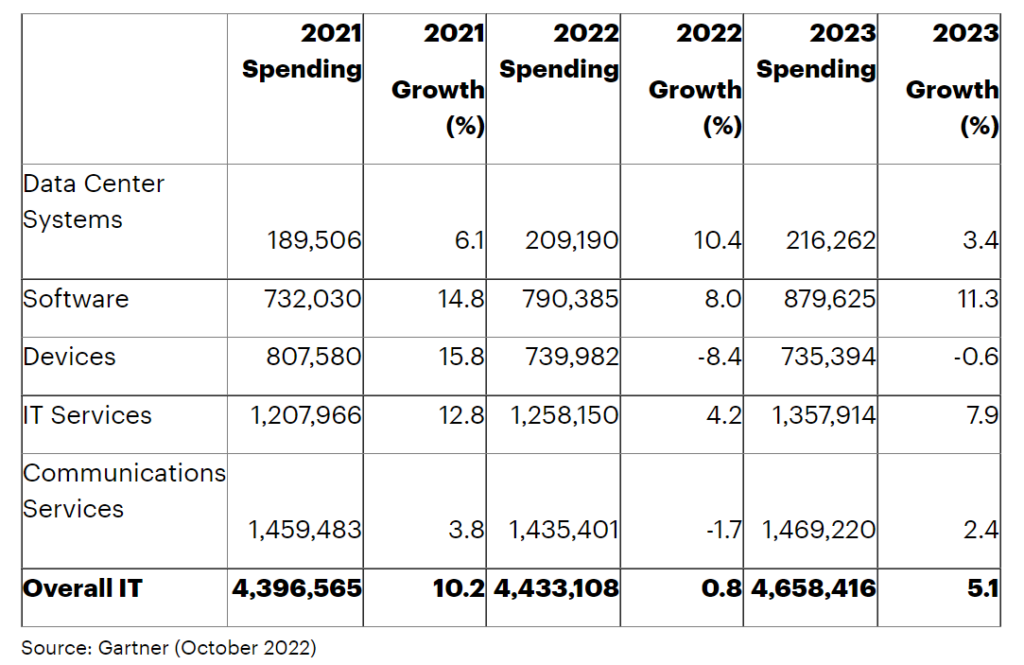 2. Shortage of skilled workers
Spending on IT is rising to reflect the higher cost of maintaining a skilled workforce.
Since the cost of living is increasing along with inflation, employers must pay their employees more to maintain the same standard of living. This could be seen as an investment because hiring and training new personnel is more expensive than giving current employees training and career development opportunities.
In order to keep employees, many other businesses will also give them salary raises. Investing in the workforce will help improve employee well-being, boost motivation and engagement within teams and create more informed and talented staff.
While demand for highly skilled workers grows, IT pay will also increase to attract new talents. Since there is a huge potential for IT consulting firms, there is a desire for experts to carry out installs and integrations.
A recent Gartner survey shows that the cost of technology services is rising due to increased labor costs, which will cause an increase in global spending on IT services of $1.3 trillion by 2023. IT service outsourcing, which closes the skills gap in firms, is another factor driving up spending.
3. Technology as a competitive weapon during recession
Every company needs to invest in technology if they want to be competitive. Companies who don't invest in the short term will surely lag behind in the medium term and run the risk of going out of business altogether.
Despite the pandemic or recession, using technology can help businesses achieve their goals and succeed. We are confronted with economic challenges while the old ones still exist. Technological advancements such as AI and automation are increasing the demand for the latest knowledge on how to create, deploy, and manage systems that can integrate with many other software and databases, and IoT devices, vehicles, and equipment.
Conclusion
Despite the growing demand for IT specialists, the hiring process will be more difficult as the need for a return on investment in those areas grows along with IT spending.
For individuals, the best ways to protect your profession from global crises are to broaden your skill set and invest time in training that is in line with your chosen career path.
For businesses, if you want to reduce your IT expenses during a recession, contact EXE Corp to receive IT services at a price you can afford. Our highly experienced team at EXE are always ready to help you build stronger, more efficient, and more agile businesses, and to ensure your success.